Danish Justice Foundation samarbejder med International Justice Mission. De penge, DJF indsamler, går til International Justice Missions (IJM) store og dedikerede arbejde med at forhindre og stoppe trafficking og handel med børn og unge kvinder i især Nordindien.
IJM fortæller i deres årsrapport for 2017, at vi sammen blandt andet har:
Reddet 31 piger og unge kvinder fra sex-trafficking.
Hjulpet 20 ofre tilbage på fode ved hjælp af terapi.
Stoppede 72 bagmænd fra at fortsætte deres ulovlige virke.
Trænet 4000 politimænd, dommere, kirkeligt ansatte og andre til at kunne hjælpe i kampen mod trafficking.
Our impact together in North India:

RESCUE

We partnered with authorities to rescue 31 girls and young women from sex trafficking.

RESTORE

Our programs helped restore 20 survivors to health and wholeness after years of therapy.

RESTRAIN

We made sure 72 traffickers and pimps were stopped from hurting others.

REPAIR

We trained 4,000+ police, judges, church members and others to end sex trafficking.
International Justice Mission fortæller I deres årsapport om deres nyeste indsatser:
Highlights from Our Year
Landmark Anti-Trafficking Conference, July 2017
This year, IJM partnered with the state government of Maharashtra on a first-of-its-kind conference to build unity, momentum and leadership in the fight against sex trafficking. Attendees from 21 Indian states and 13 countries came together to share ideas, identify challenges, and honor survivors like Sadhna* for bravely raising their voices (pictured left).
One prominent Indian activist celebrated, "This is the kind of convergence that will break the organized crime of human trafficking—because today we are organized to fight it."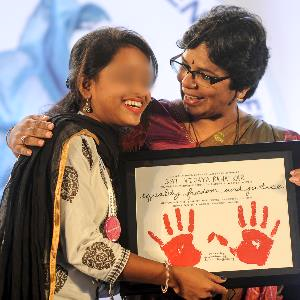 Surpassing 100 Convictions in Mumbai, July 2017
Two traffickers were finally brought to justice in a Mumbai courtroom this July, bringing IJM's total convictions to 101 since our anti-sex trafficking program launched in 2000. This is a major accomplishment for IJM's team, representing hundreds of victims protected and years of progress in the justice system that will soon end sex trafficking for good.
Indian courts are better equipped than ever to stand up for victims of sex trafficking—and IJM is honored to be their trusted partner. At one court in particular, IJM cases made up 68% of the successful trafficking convictions between 2002 and 2015.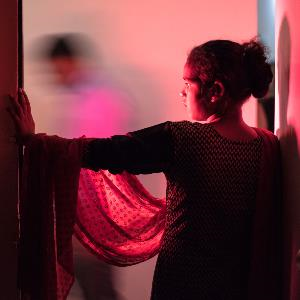 Survivors Share Their Dreams in Kolkata, September 2017
IJM's second annual Survivor Reunion in Kolkata brought together 21 courageous young women who have overcome the abuse of their past and are now thriving in freedom. In a weekend of lessons and laughter, the survivors shared their stories and laid out big dreams for the future: whether finishing school, getting married, or starting a business.
IJM Aftercare Coordinator Anju Sherpa said, "This was a hope-instilling event where we saw all our survivors as champions…To us, they are our real heroes."